Volume 14, No.3, December 2008
New field guide for the delta
A valuable new book indexes 363 species in all four riparian languages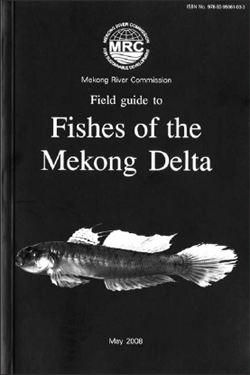 The Mekong Delta extends from Kampong Cham in Cambodia, through Viet Nam to the mouth of the river where the Mekong discharges into the South China Sea. It is an area of high biodiversity with some of the richest fauna and flora in the Lower Mekong Basin. Between 1961 and 1993, reports by Japanese, Vietnamese and Swiss authors provided lists of fish fauna in the Mekong Delta. In his comprehensive account of fish in Cambodia jointly published by the MRC, FAO and Danida in 1996, Walter Rainboth of the University of Wisconsin recorded more than 350 species in the Cambodian stretch of the Mekong including many from the delta. And in 2004, the MRC published a Mekong Fish Database CD that includes more than 400 species from the delta.
Working with Chavalit Vidthayanon of WWF Thailand, the MRC has now produced a 288-page field guide to 363 of the most common species found in the delta, most of which have significant economic and ecological value. The Field Guide to the Fishes of the Mekong Delta includes a checklist of 460 species known to date. They are ranked according to family (of which there are 66) and bio-geographical status (endemic and indigenous fish as well as visitors from marine waters). Carps, barbs and minnows (cyprinids) and gobies (gobiids) predominate, accounting for about 30 percent of all delta species. Twenty-eight species are endemic to the Mekong of which four are restricted to the delta. Of the species known in the delta, 346 have a broad geographical range and many occur throughout the Southeast Asia region. Seventyfive species are regular visitors from the South China Sea. More than 250 are economically important as food fish and 25 are common in aquarium trade.
The 363 species covered in detail by the field guide have been selected on the basis of their abundance, commercial importance and significance in terms of conservation. For each of these species, the book includes the scientific name and the common names in English as well as Khmer, Lao, Thai and Vietnamese. It also provides colour photographs of adult fish and, where appropriate, photos or drawings of juveniles. The entry for each fish includes a species diagnosis and a review of its biology, distribution and range. Two indexes list the 363 species according to both their scientific and common names including names in all four riparian languages.
Dr Chavalit has been active in the field of fish taxonomy since the early 1990s and is now recognised as a leading expert on Mekong fishes. Although the book's main purpose is to serve as a practical guide to technicians, students and other researchers, it will also be a welcome addition to libraries and personal collections as an authority on the species of this area.
Available for US$15 through mrcs@mrcmekong.org, or buy it online here
Text based on excerpts from the introduction and the foreword by
Jeremy Bird, Chief Executive Officer of the MRCS