Welcome to the Pacific Invasives Learning Network
The Pacific Invasives Learning Network is about people – bringing people together to share ideas and skills, breaking the isolation of remote islands in the Pacific. Read more...

Where PILN works
Micronesia, Polynesia, Melanesia and Hawai'i
Threat
Invasive plants and animals can disrupt natural cycles, crowd out native species, and cause billions of dollars in damage.
Strategy
The Pacific Island Invasives Learning Network will build the skills of multi-agency teams in the Pacific to address the threats posed by invasive species.
Mission
To empower effective invasive species management through a participant-driven network that meets priority needs, rapidly shares skills and resources, provides links to technical expertise, increases information exchange, and accelerates on-the-ground action.
Goals
PILN team members strengthen essential technical, organizational, collaborative and policy skills to advance invasive species management in the Pacific Islands.
PILN teams demonstrate on-the-ground action against invasive alien species and rapidly share their experiences, skills and resources.
PILN team members work cooperatively on high priority local and national invasive species issues.
PILN teams collaborate in addressing at least one critical regional invasive issue or opportunity.
Contact
Any queries or comments can be addressed to the PILN Coordinator at piln@sprep.org.
This page was created on 20 December 2005 by JK and last updated on 4 November 2008 by JK.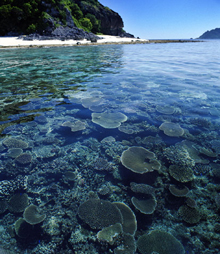 We know very little about invasive species in the Pacific marine environment.
© Stuart Chape.