Photo by Lance Laack.
Coral reefs are home to over 40,000 species of fish.

| | |
| --- | --- |
| | PYOR08 will feature in the ICRI-sponsored event on Coral Reefs at the Marine Pavilion at the IUCN World Conservation Congress in Barcelona, Spain on Wednesday, 8th October from 8:00 pm to 9:30 pm. |
See draft agenda of Celebrating International Year of the Reef 2008
Read the latest news on the World Conservation Congress

Benagio of Vila East School in Vanuatu won first prize in the poster category of the 'Legends of the Reef' competition with this entry. See our news page for news of other winners.

Matavera Stars, winners of the string band competition at Environment Week celebrations in Cook Islands. Groups composed and performed songs highlighting links between climate change and coral reefs. Photo by Cook Islands National Environment Service.
The 2008 Pacific Year of the Reef (PYOR) campaign is a regional initiative to incite action to save the Pacific's coral reefs.
The goal of the PYOR campaign is to encourage Pacific islanders to take action to reverse the current degradation of their coral reefs and build their resilience to natural stresses such as climate change. The campaign is part of the International Year of the Reef that aims to raise awareness of the value and importance of coral reefs and threats to their sustainability, and to motivate people to take action to protect them. Coral reefs play critical roles as providers of Pacific islanders' livelihoods and cultures and protectors of our islands. Their conservation is key to the sustainable development of our region.
September
Phase 2 of 'challengecoralreef' competition closes
Marine studies course for secondary schools begins in Fiji
Shark count by the Australian Underwater Federation begins in Melbourne (06/09-06/10)
19 th SPREP Meeting side event on PYOR08 (8-12)
3 rd Steering Committee Meeting of the Pacific partnership on Sustainable Water Management in Samoa (10)
World Water Monitoring Day (18 September)
Coral Monitoring Session in Kosrae , Federated States of Micronesia begins (27/09-10/10)
October
Announcement of 'challengecoralreef' competition winner
IUCN World Conservation Congress, Barcelona, Spain (5-14)

Beach Environmental Awareness Campaign Hawai'i lecture series on marine debris impacts on marine life (9, 16, 23, & 30/10)

'Take the Right Route ' in Commonwealth of the Northern Mariana Islands (10)
International Pacific Marine Educators' Network Conference, Townsville, Australia (17-21)
International Youth Coastal Conference, Townsville, Australia (19-22)
Port Douglas IYOR Festival in Australia features underwater films, beach clean ups, educational fair, and futures forum (24-25/10)
'Ridge 2 Reef Scavenger Hunt' in Saipan, Commonwealth of the Northern Mariana Islands (25/10)
10th Conference of the Parties to the Ramsar Convention, Changwon, Republic of Korea (28/10-04/11)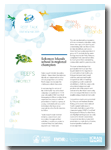 ReefTalk
The fourth issue of the PYOR newsletter is now available here
Youth groups in Phase 2 of our 'challengecoralreef' competition are:
Winner
Runners-up
Namamanuca Primary School, Fiji

Betio Junior Secondary School, Kiribati

Equipe du Lycee du Grand Noumea , New Caledonia

Aleipata Secondary School, Samoa

Malapoa College, Vanuatu
For more information on 2008 Pacific Year of the Reef, contact Caroline Vieux, SPREP Coral Reef Management Officer at carolinev@sprep.org or Sereima Savu, SPREP Pacific Year of the Reef Campaign Coordinator, at sereimas@sprep.org.