Landmark pact offers 40M people hope
By Germelina Lacorte of Inquirer Mindanao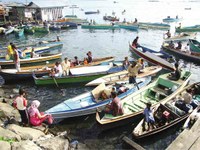 Experts from the Sulu-Celebes Sea Sustainable Fisheries Management Project (SCS-SFMP), however, noted that the marine life in these two water basins is not separate: The Pacific Ocean flows into Sulu Sea in Northern Mindanao and between the Sangihe-Talaud archipelago in North Sulawesi.
Food security
On Tuesday, Oct. 29, a three-country commitment to protect and manage this common marine area was signed with the hope of ensuring food security for over 40 million people, said Romeo Trono, regional project manager of the SCS-SFMP of the United Nations Office for Special Services.
The landmark agreement, which environment and fisheries officials from the three countries signed, called for the implementation of a strategic action plan to deal with the impact of declining resources in the Sulu-Celebes Sea.
Trono said the strategic action program focused on the management and conservation of small pelagic fishes such as sardines, long-jawed mackerel, big-eye and round scads, and frigate mackerel, a major source of food for most people in the area.
"They are the most abundant, and their stocks are shared by the three countries," Trono said.
"By focusing our conservation plan on small pelagic fisheries, we ensure that the welfare of economically marginalized communities is being taken care of," Trono said.
"Small pelagic fishes like sardines, scads and mackerel do not only provide sources of income to fishers but are also the more affordable protein source for lower-income populations in the region," Trono said.
Sustainable fishing
He said the commitment to protect the Sulu-Celebes Sea, signed in Balikpapan, East Kalimantan, would hopefully make fisheries production in the region more sustainable.
Located at the top of the Coral Triangle, the region serves as a habitat for a number of species of corals, fishes, mollusks, mangroves, sea grass and algae that are among the highest in the world.
Trono said the coral reef ecosystem of the Sulu-Celebes Sea supports diverse fishing methods that provide an annual potential yield of 675,380 metric tons.
"This high diversity of marine life results in healthy ecosystems that provide food and the capacity to cope with natural and manmade calamities and their impacts," he said.
But recent studies showed that over-exploitation of fish and increased extraction of fishery resources have resulted in declining fish size and catch in the region.
"The total marine fisheries production in the Sulu-Celebes Sea countries in the last decade represents a tenfold increase from the 1950s," he said.
"Marine capture production within the Sulu-Celebes Sea increased steadily in the last 60 years, threatening to deplete existing resources," he explained.
Read more: http://globalnation.inquirer.net/89385/landmark-pact-offers-40m-people-hope