The Gambia
Demo site: Kartong Beach Area; Theme: Eco-tourism; Management Team: Environment Focal Point: Mr. Momodou Suwareh; Tourism Focal Point: Ms. Fatou Beyai Raji; Demo Project Coordinator: Mr. Abubacarr Kujabi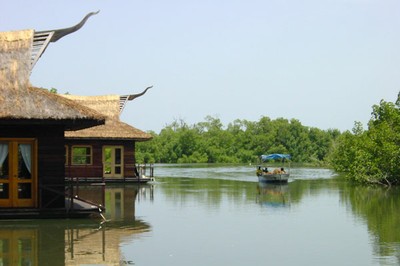 Gambia Demonstration Project: Eco-tourism and poverty alleviation
In The Gambia, tourism was introduced more than 40 years ago and there is increased pressure exerted on coastal beaches as a result of rapid expansion and intensification of the tourist industry along the coastal areas. The demonstration project is called; Strengthening community-based Eco-tourism and joint venture partnerships, and aims to promote poverty alleviation through the development of more diverse Eco-tourism opportunities for rural communities, and by promoting linkages between different stakeholder groups while building their capacity in, marketing environmentally and socio-economically sustainable Eco-tourism.
Strengthening community-based eco-tourism and joint-venture partnerships within a revised coastal land use policy framework
At the end of the planning phase for the COAST project (mid 2006) each partner country had produced (with consultant support) a narrative project document describing in general terms the proposed demonstration project(s). There was no logical framework, no work plan, and only a total budget figure (see below) to guide stakeholders in beginning to implement the project. From January 2009 through to June 2009, based upon a one week visit by the Technical Coordinator to each partner country (during the Inception period of the COAST project) a revised narrative, new logical framework, first year work plan and indicative GEF support budget were developed and discussed. Subsequent to each country visit further support has been provided through email discussions. This demonstration project document now provides a more concise definition of the activities and outputs which are expected to be undertaken at the sites in the Gambia demonstration project. This short note highlights what are foreseen to be the main challenges in now starting to implement the work. This paper has been written as a subsidiary contribution to the general overview provided in the Inception Report.
Demo site: KARTONG BEACH AREA
Theme: Eco-Tourism
Management Team
| | |
| --- | --- |
| TEAM | NAME |
| DEMO PROJECT COORDINATOR | Mr. Abubacarr KUJABI |
| TOURISM FOCAL POINT | Ms. Fatou BEYAI RAJI |
| ENVIRONMENT FOCAL POINT | Mr. Momodou SUWAREH |