Project Components
by richard —
last modified

2007-08-24 09:50
On-the-ground demonstrations of innovative, cost-effective livestock waste management techniques by private livestock producers and implementation of a replication action plan for them will be the project's principal outputs, as agreed at pipeline entry.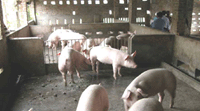 The project design is tailored to fit the specific livestock rearing conditions in the three participating countries, particularly the different average size of pig farms, which are its main target. In Thailand and China, large sized industrial pig farms are dominant, while in Vietnam, pig farms are typically small scale, involving confined household-based production that is concentrated in particular villages. This structure of Vietnamese rural society requires that the project's demonstration activities be conducted on a communal (village) rather than individual farm basis. The targeted project demonstration farms are all located within the concentrated livestock production jurisdictions bordering South China Sea and Gulf of Thailand.
The proposed Project takes a comprehensive approach to integrate technological solutions, regulatory enforcement, capacity building, and regional synergy for achievement of the Project objectives. The Project would be integrated into the Governments' mainstream programs and based on existing institutional mechanisms. The project will support activities under the four project components presented below, to be implemented over a period of five years with focus on on-the-ground demonstration, policy development and regulatory enforcement.
The project will be executed by four recipients: Governments of Thailand, China and Vietnam for the implementation of Components 1, 2 and 3 in their respective countries, and FAO for the implementation of Component 4.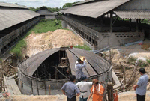 This component would finance consultant services, training, goods and civil works related to the development and construction of cost-effective and replicable livestock waste management systems and facilities and the implementation of effective waste management approaches in areas with a high concentration of intensive pig farms. Its goal is to demonstrate technically, geographically, economically and institutionally workable solutions to reduce regionally-critical livestock waste pollution caused by industrial livestock production under the different political and social situations of the participating countries. The livestock waste management strategies promoted under this component will focus on reducing excess nutrients (nitrates and phosphates in particular) and human health risks. The methods to be used would include (a) reducing, through better feeding practices, the volume of nutrients emission; (b) getting the nutrients back into the crop cycle; (c) processing and packaging the nutrients for export to other areas for crop use; (d) converting the nutrients to plant-available forms; (e) destroying the nutrients; and (f) taking measures to minimize potential transmission of pathogens, antibiotics and their resistance strains from livestock to human being. Specific activities of the component would include: selection of demonstration farms and villages, technical design, and implementation.
The demonstration activities would be supported by training and extension to provide (a) farmers with the essential skills and technical support needed to improve their on-farm manure management practices and (b) capacity building. Activities would be specified in the detailed master capacity building development plan to be prepared by each participating country. This component would comprise two subcomponents i.e. Technology Demonstration, and Training and Extension.

This component would finance consultant services, training and goods to support setting up a policy and regulatory framework for environmentally sustainable development of livestock production in each country that will induce further policy reforms and encourage farmers to adopt improved manure management practices. This will be achieved through: (a) the development of a replication strategy; (b) the review and revision of existing regulations; (c) the commitment to master planning of livestock production (at national and provincial levels) to direct the geographic focus of future intensive livestock production; (d) the development and introduction of codes of practice or best waste management practices; and (e) the development and introduction of livestock waste recycling and discharge standards. Specific policy packages will be tested in sub-national jurisdictions and testing experience will feed back into the policy and regulatory development subcomponent. Code of Practices or Best Management Practices will be tested in synergy with Livestock Waste Management Technology Demonstration component, which will promote cost-effective and replicable technical options. This component will also support awareness raising activities, focusing on policy measures and environment and public health issues associated with inadequate manure management. This will focus the attention of national and local governments on livestock waste policy and regulatory enforcement and facilitate further assistance with this challenge from the World Bank and other donors. This component would comprise three subcomponents i.e. Policy and Regulatory Development, Policy Testing, and Awareness Raising.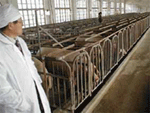 This component would finance consultant services, training, office equipment and incremental operating costs to support efficient project management by supporting the establishment of a national Project Management Office (PMO) in each participating country as the secretariat of and reporting directly to the respective National Steering Committee. The PMO, comprising a Project manager supported by competent staff, based on existing administrative structure and physically located within the main implementing agency of each participating country, would be responsible for day to day Project administration. Replication potential of alternative livestock waste management technologies as related to farm scale, affordability, operational capacity, material availability, and compatibility to the waste handling methods of the local farm communities would be assessed to achieve widespread replication of the tested manure management practices throughout the three participating countries.
The component would also support effective Project monitoring and evaluation of the social, economic, environmental, human health risks and other changes brought about by the Project, and the dissemination of Project outcomes within respective participating country. Monitoring on human health risks associated with the project will focus on measures taken to minimize potential transmission of pathogens, antibiotics and their resistance strains from livestock to human being. Specific activities would be detailed in Project monitoring and evaluation plans to be finalized at appraisal. This component would comprise two subcomponents i.e. Project Management, Project Monitoring and Evaluation.
This component would finance consultant services, training, workshop, office equipment and incremental operating costs to provide (a) capacity building support to strengthen the participating countries' institutional capacity in Project implementation and (b) regional coordination and facilitation support to ensure regional coordination and achieve cross-country synergies, and regional replication.

This component would respond to the participating countries' need for an easily accessible source of support for capacity building including support for (a) decision tools development, (b) evaluation of Project activities and outcomes, and (c) development of training modules and packages.
Cross-country synergies and regional replication aim to compile and exchange experiences of livestock waste management practices among participating countries, also replicate the results of project implementation to other countries in the Region. It would be developed through establishing of Regional Coordination Group which is facilitated by Regional Facilitation Office.
With the intention of achieve objectives of cross-country synergies and regional replication, this component would focus on regional coordination, facilitation amongst the three participating countries and the dissemination of Project outcomes, decision support tools, technical guidelines and standards within the three participating countries and to other countries bordering the South China Sea. This component would comprise two subcomponents i.e. Capacity Building Support, and Coordination and Facilitation Support.