Shipping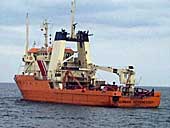 During the last decade shipping has steadily increased around the Baltic Sea, reflecting intensifying international co-operation and economic prosperity. Around 2,000 sizeable ships are normally at sea at any time in the Baltic, including large oil tankers, ships carrying dangerous and potentially polluting cargoes, and many large passenger ferries. The Baltic Sea has some of the busiest shipping routes in the world. Maritime transportation is generally one of the most environmentally friendly ways of transporting goods, but there are also potential negative impacts.
This website's Shipping pages are designed to provide visitors with information on:
ships' traffic and navigational safety
ship-generated waste
accidental pollution and response
air pollution
releases of alien species in ballast water
These pages also summarize HELCOM's actions to address these issues. More information about the work of the HELCOM Maritime and HELCOM Response groups can be found under "Groups" of this web page.