Response Group (HELCOM RESPONSE)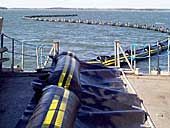 The increasing density of shipping and the rapidly rising amounts of oil being transported by sea mean that the risk of an accident involving serious oil pollution will increase correspondingly, unless counteractive measures are implemented. Forecasts indicate that by 2015 more than 130 million tonnes of oil will be transported on the Baltic Sea every year. It has been estimated that this could raise the risk of a large oil-spill involving over 10,000 tonnes of oil by 35% for the whole of the Baltic Sea, and 100% for the Gulf of Finland.
HELCOM RESPONSE at work
The Group works:
to ensure swift national and international response to maritime pollution incidents
to ensure that in case of an accident the right equipment is available and routines are in place to respond immediately in co-operation with neighbouring states
to analyse developments in maritime transportation around the Baltic and investigate possible impacts on international cooperation with regard to pollution response
to coordinate the aerial surveillance of maritime shipping routes to provide a complete picture of sea-based pollution around the Baltic, and to help identify suspected polluters
HELCOM RESPONSE coordinates two joint aerial surveillance flights a year as well as other operational exercises to combat pollution.
The Group also continuously updates and reviews the HELCOM Response Manuals - Volume 1 (Oil) and Volume 2 (Chemicals).
HELCOM RESPONSE organises regular meetings involving officials responsible for responding to pollution incidents at sea and representatives from inter-governmental organisations and non-governmental organisations.
HELCOM RESPONSE works closely with other relevant international bodies including BONN Agreement, and the International Maritime Organisation (IMO), to ensure international measures are suitably applied and implemented in the Baltic.
Response exercises
In order to ensure the co-operation in case of a pollution incident the Contracting Parties regularly carry out exercises. The exercises range from "paper" exercises to operational exercises.
Most famous are the BALEX DELTA exercises, which test the alarm procedures and response capability of the Contracting Parties in case of a major accident and an international response operation. The general objective of the BALEX DELTA exercises is to ensure that every Contracting Party is able to lead a major response operation. BALEX DELTA exercises take place each year and are hosted by the Contracting Parties according to an agreed schedule.
International operational exercises with participation of all Baltic Sea States (BALEX DELTA)
2000 Russia: 5 countries, 12 ships, 1 aircraft;
2001 Denmark: 7 countries, 11 ships, 2 aircraft;
2002 Latvia: 6 countries, 18 ships, 2 aircraft;
2003 Finland: 5 countries, 16 ships;
2004 Germany: 6 countries, 11 ships, 1 aircraft (watch the film);
2005 Sweden: 7 countries, 19 ships, 2 aircraft (watch the film);
2006 Poland: 7 countries + EMSA, 23 ships, 3 aircraft (watch the film);
2007 Estonia: 6 countries + EMSA, 17 ships, 1 helicopter (watch the film);
2008 Russia: 6 countries + EMSA, 18 ships, 2 helicopters.
Contacts
Chairman of HELCOM RESPONSE
Mr. Peter Poulsen
Admiral Danish Fleet HQ
P.O. Box 1483
DK-8220 Brabrand
Denmark

Phone: +45 8943 3405
Fax: +45 8943 3427

HELCOM Secretariat
Professional Secretary
Ms. Monika Stankiewicz
Phone: +358 40 840 2471
Fax: +358 (0)207 412 645