The project implementation strategy for GBP uses a multi-component, multi-tiered approach:
A global component, managed through IMO London, providing international coordination and information dissemination, including the development of toolkits and guidelines, and establishing a strong cooperation with industry and NGOs.
A regional component, providing regional coordination and harmonization, information sharing, training, and capacity building in the application of ballast water management tools and guidelines. The regional component and activities will be coordinated with the support of Regional Coordinating Organizations (RCOs).
A significant country component, that establishes a fast track (Lead Partner Country-LPC) and partner track (Partner Country-PC) process for GEF-eligible countries in the priority regions. LPCs are the countries who have committed to develop and implement a National Ballast Water Management Strategy (NBWMS), and to adopt legal, policy and institutional Reforms (LPIR). In addition, LPCs will host the Regional capacity building activities such as regional training and the regional strategy development meetings. The Partners Countries would benefit from the Regional Capacity building activities and will participate in the regional strategy development.
The Project has already spurred global efforts to design and test technology solutions, and to enhance global knowledge management and marine electronic communications to address the issue. The partnership effort is three-tiered, involving global, regional and country-specific partners, representing government, industry and non-governmental organizations. Private sector participation has been achieved through establishing a GloBallast Industry Alliance with partners from major maritime companies.
GBP is being implemented in 5 high priority sub-regions (the Caribbean, Mediterranean, Red Sea and Gulf of Aden, the South East Pacific, and the West Coast of Africa) and one special new region (South Pacific): through 15 Lead Partnering
Countries and more than 70 Partner Countries.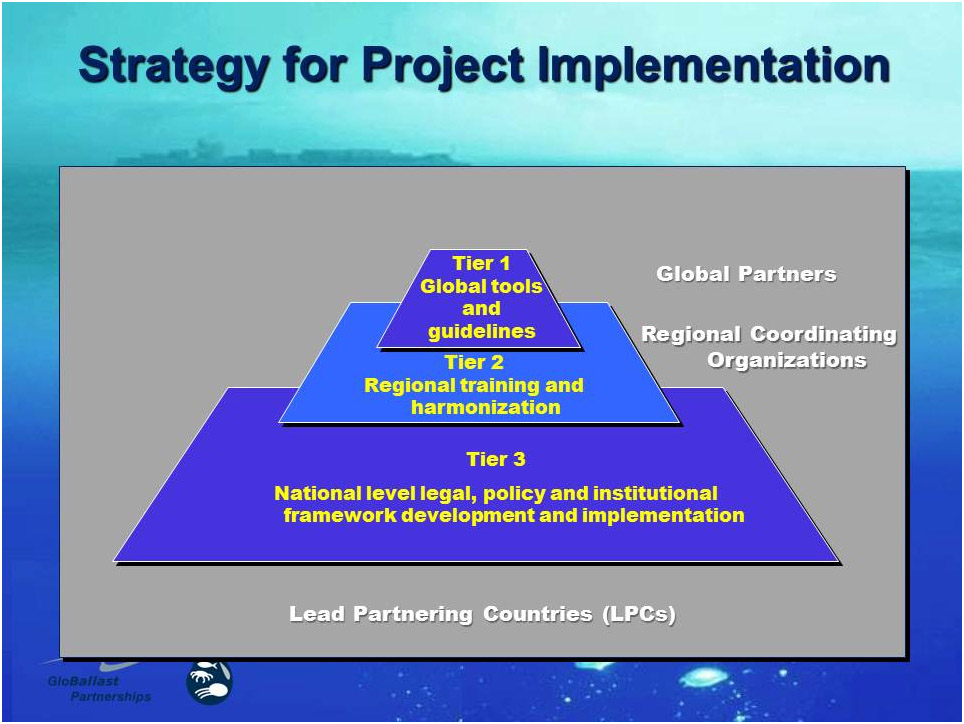 Project Outcomes
GloBallast Partnerships has four key expected outcomes:
Learning, evaluation and adaptive management increased.
BWM Strategies in place, with legal, policy and institutional reforms developed, implemented and sustained at national level.
Knowledge management tools and marine monitoring systems are effectively utilized to expand global public awareness and stakeholder support, improve understanding of ballast water impacts on marine ecology, and enhance maritime sector communications.
Public-private partnerships developed to spur the development of cost-effective ballast water technology solutions.