BIOSS Team Surveys Mahale Mountains National Park

by Bakari Mnaya

The LTBP BIOSS Teams from Tanzania, Zambia, Burundi and DR Congo united together for a special under-water biodiversity survey at Mahale Mountains National Park, Tanzania from 23rd March to 07th April 1999. This Park was officially gazetted in 1980, and it is situated 120 km south of Kigoma. It lies on a peninsula that extends into the lake and covers an area of 1613 sq.km. To the West, the Park extends its boundary into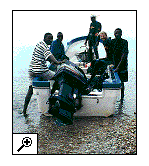 the Lake, protecting the adjacent 1.6 km wide strip of coastal waters of Lake Tanganyika. The terrain of the Park is mostly rugged and hilly, dominated by the Mahale Mountain chain running roughly north-west to south-east across the middle of the Park. Owing to its remote location, the park normally receives less than 300 tourists per year.

The Bioss Survey At Mahale Mountains National Park
As a general rule of conservation biology, before setting your goals on the plans of conserving or managing any kind of natural resource, one should know in detail what the resource consists of in both biotic and abiotic forms.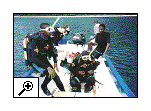 The LTBP aquatic survey of the Mahale Coastline will assist Tanzanian National Park Authorities (TANAPA) to understand and make informed decisions regarding conservation and management strategies for the aquatic sector of the park.

The LTBP regional BIOSS team arrived at Mahale on 22 March, and the survey began by team members doing manta surveys along the 60 kilometers of park coastline. This provided a description of the lake's substratum characteristics, e.g. inclination, percentages composition of sand, gravel, rocks, boulders and bed rock; coast line characteristics. Based on the distribution of habitats established through the manta survey, the team established which sites would be surveyed in detail.