Regional Strategic Action Plan
Given that the identified problems and threats to the Sulu-Celebes Sea are transboundary in nature, joint regional actions from the three SCS countries are necessary to address these concerns.
On March 19-20, 2012, the SSME Sub-Committee on Sustainable Fisheries has accepted the TDA findings during its 6th Annual Meeting in Tawau, Sabah, Malaysia during March 19-20, 2012. The Sub-Committee also agreed to proceed in the preparation of the Strategic Action Program (SAP) for the SSME. The results of the TDA became the bases for the drafting of strategic action programs to be implemented in both regional and national levels.
The SAP focuses on the unsustainable exploitation of fish, the first priority among identified TPs in the TDA.  The SSME tri-national committee hopes that the implementation of this SAP will provide the impetus for raising more interest and funding support to address the other five TPs in the next phase of this project.
Through the regional management and conservation of small pelagic fishes using an ecosystem approach in fisheries management, the plight of the fishing communities and the health of the marine environment can be improved.
The SAP identified targets and activities in six thematic areas: 1) science-based, social and management Interventions using the Ecosystem Approach in Fisheries Management; 2) resource valuation; 3) monitoring, control and surveillance; 4) information, education and communication; 5) livelihood development, and 6) capacity building.
On October 29, 2013, environment and fisheries officials from the three countries signed and endorsed the implementation of the Regional Strategic Action Program to make fishing within the SSME sustainable.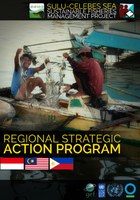 Click on the image to view the pdf report.