The International Waters Project 2000-2006

Strengthening the management of coastal fisheries, freshwater and waste in the Pacific Islands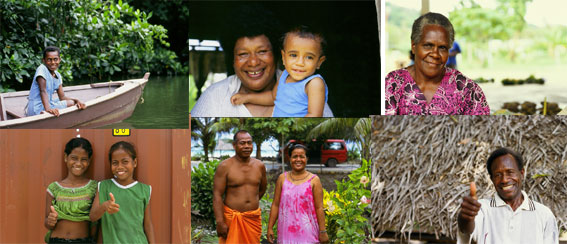 The International Waters Project (IWP) has worked with pilot communities in 14 Pacific Island countries to find practical ways to strengthen environmental management in three key areas: coastal fisheries, waste reduction, and freshwater protection.
IWP has worked with these pilot communities to try and understand the root causes of resource management problems and to identify possible low cost solutions that can also help countries improve resource management planning at the national level.
The IWP was funded through the Global Environment Facility (GEF) and co-managed by the Secretariat of the Pacific Regional Environment Programme (SPREP) and the United Nations Development Programme (UNDP). This seven-year, $US12 million, project ran to December 2006 and was formally wound up on 28 February 2007.
Project Stories:
Tonga's Water Supply Threatened
Girl drinking in Tonga.


Matangi Tonga Newspaper: Friday: October 21, 2005

Tonga's underground water supply is being threatened by the careless disposal of waste that may pollute the clean water supply, warns Sione Faka'osi of Tonga's Department of Environment.

"The quality of Tonga's water system is not at a critical stage at the moment, still the increasing mismanagement of waste urges us to do something," said Mr Faka'osi, who is the National Coordinator for the Tonga International Waters Project (IWP).
Radio Australia: Praise for Pacific International Waters Project
View of the Pacific from South Tarawa

The Pacific has won praise from the New York-based Global Environment Facility for its handling of marine and coastal management and its fresh water supplies and waste.

The Principal Technical Advisor with the GEF's International Waters Project, says the Pacific region is the most advanced of all small island developing regions and will be the model for new projects in the Caribbean.

(Find out more...SPREP - News detail)
Paradise Lost?
Woman from Lepa Village, Samoa.


By Elisabeth Easter, Pulp Magazine


The South Pacific, the very thought conjures up images of pristine atolls, tropical reefs bursting with aquatic life and balmy beach living - an area of unspoilt beauty.

And don't get me started on the surf breaks – from Samoa's mighty reefs to Fiji's gentler (sometimes at least) beach breaks - the islands of the Pacific have something for everyone.
Communities Helping Themselves
Girl from Rarotonga


By Asterio Takesy

In the Pacific we have long recognized that community participation is essential if we truly want to achieve the sustainable management of our environment and natural resources.

Too often in the past we have also focused our attention and energy on addressing the symptoms of environmental degradation rather than the "root causes." How many of us have participated in beach or village clean ups only to return the following week to find that all the rubbish has returned to our public spaces?
Romancing the Environment - Fiji IWP Community Champion, Pita Vatucawaqa
Pita Vatucawaqa.


By Lusiana Speight

He wakes up before daybreak, at four in the morning. Stretches and sits up in his bed and looks around his village home in Vunisinu, Dreketi, Rewa.

Fifty-four year old Pita Rokosuka Vatucawaqa washes his face and settles down for his morning devotion to commit his day to the Almighty. After his devotion Pita sits down to have his breakfast and while doing so watches his grandchildren slumbering peacefully in a distance.

(Find out more...SPREP - News detail)
Jenrok Models Improved Waste Management for the Marshall Islands
President of the Marshall Islands, Kessai Note, with local resident, Ned Alex, at the opening of the IWP office in Jenrok, Majuro.


From Suzanne Chutaro in Majuro

For many years Majuro Atoll, the capital and gateway to the Marshall Islands, has suffered from unplanned and uncontrolled development resulting in increased poverty, crime, and pollution. This situation has now reached a crisis point where it is now seriously compromising the quality of life for the 25,000 people who live there.

(Find out more...SPREP - News detail)
Prime Minister of Samoa says Waste Management Vital to Growth of Pacific Tourism
The Prime Minister speaking at the special IWP event to celebrate SPREP's "Year of Action Against Waste"

The Prime Minister of Samoa, Tuilaepa Aiono Sailele Malielegaoi, says better waste management is vital to the growth of tourism in the Pacific region. Speaking at a special event to highlight the "2005 Year of Action Against Waste", he said the Pacific Regional Environment Programme (SPREP), which is headquartered in Apia, needed to promote greater collaboration to improve waste management in the region.

(Find out more...SPREP - News detail)
Strengthening the Management of Niue's Coastal Resources
A gleaner collecting tube worms on Niue's reef shelf


By Niu Tauevihi

Niue, 261 square kilometres in area, is the largest a raised coral atoll in the world. It sits atop a dormant volcano and slopes down to a base five miles below on the floor of the Pacific Ocean. Composed mainly of solid rock the island is surrounded by a rugged, fringing, reef shelf, some 20-60 metres wide. Imposing cliffs rise straight up from the reef 20-27 metres above the high tide watermark.


(Find out more...SPREP - News detail)
The Real Cost of Fiji's Growing Mountain of Rubbish
Vunisinu's installs its first ever waste disposal system


By Tamani Nair

In early July a fire at Lami Rubbish blanketed Suva with choking smoke and led to warnings from environment and health authorities about the serious health risks from the tons of poisonous chemicals being released into the environment. Super-toxic chemicals such as chlorinated dioxins and furans are formed as a by-product of burning organic chemicals and plastics that contain chlorine.
Groundbreaking Study Estimates Cost of Water Pollution in Rarotonga
Tianoa Joseph shows his Grandson Anthony how they must boil their tap water to make it safe


By Steve Menzies and Noeline Browne in Rarotonga

A groundbreaking study estimates that Rarotonga could potentially avoid costs of NZ$7.4 million per year, or $2,900 per household, if watershed pollution was entirely prevented. The study, commissioned by the International Waters Project (IWP), is helping the Cook Islands Government assess the best options for protecting the countries valuable watersheds.

(Find out more...SPREP - News detail)
Bęche-de-mer Under Pressure in Marovo Lagoon
Harvesting Bęche-de-mer runs contrary to Seventh Day Adventist beliefs


The Marovo Lagoon located in the Western Province of the Solomon Islands is the longest lagoon in the southern hemisphere. Once described by James A. Michener as the "eighth wonder of the world" the lure of its spectacular natural beauty attracts tourists from across the globe.

(Find out more...SPREP - News detail)
Promoting the Adoption of Safe Toilet Systems in Tuvalu
Diarrhoea is a leading cause of death, in many Pacific Island communities, particularly in children under five years of age.


The Tuvalu International Waters Project (IWP) is working together with the neighbouring communities of Alapi and Senala to find ways to promote the adoption of safe, practical, and cost-effective toilet systems in Funafuti.

(Find out more...SPREP - News detail)
Strengthening Freshwater Protection in the Cook Islands
Activities above the water intakes are contaminating Rarotonga's water supply.


By Deyna Marsh, Assistant National Coordinator for the Cook Islands International Waters Project

The Cook Islands International Waters Project (IWP) is to trying find practical ways to make sure that fresh water resources are kept safe and clean for everyone in Rarotonga.

(Find out more...SPREP - News detail)
Working to Improve Waste Management in the Marshall Islands
Majuro Atoll can now barely contain it's growing mountain of rubbish.

The Marshall Islands International Waters Project (IWP) is working with the Jenrok Village and Na Weto/Mieco communities to try and help find practical ways to improve the management of waste throughout the rest of Majuro.

(Find out more....SPREP - News detail)
The Samoa IWP – Working to Protect Samoa's Precious Freshwater Resources
Boy from Lepa Village

The Samoa International Waters Project (IWP) is working with the village of Lepa, on the island of Upolu, to try and find practical, low cost, ways for Samoa's rural communities to improve their access to safe drinking water.

According to a report on the Millennium Development Goals (MDG's) some 60% of villagers in Samoa indicated that their water had to be boiled because of its poor quality. Target 10 of the MDG's is to "halve the proportion of people without sustainable access to safe drinking water and basic sanitation by 2015.

SPREP - News detail
Chief Manoa Kaun - Helping to strengthen the management of Vanuatu's precious coastal fisheries
| | |
| --- | --- |
| Chief Manoa Kaun in Crab Bay on Vanuatu's Malekula Island | Chief Manoa Kaun is the Chief of Louni Village, one of several villages that make up the community of Crab Bay, on Vanuatu's Malekula Island. Manoa is at the forefront of the IWP's efforts to try and find practical ways to help Vanuatu's coastal communities strengthen the management of their rapidly dwindling coastal resources. |
The True Cost of Tonga's Waste
Sione Fakaosi, National Coordinator of the Tonga IWP

In Tonga the poor management of solid waste and liquid waste from humans and animals has become an issue of national importance. According to a 2002 report outlining Tonga's "Priority Environmental Concerns" pollution from solid and liquid waste is now the biggest environmental problem facing the country. The report recommended that measures needed to be taken to minimise the impacts of this waste and to protect the freshwater lens under Tongatapu.
SPREP - News detail
How much is poor waste management costing the Pacific?
Tongan boy in the dump at Nuku'alofa

We often hear that waste – solid, human, and animal – is threatening our water supplies, our health and even our fisheries. But have you thought how much it also costs ordinary citizens their hard earned cash? When polluted water makes our families sick, we have to pay for their medicine and doctors visits. And, if we ourselves get sick and can't come to work, our bosses foot the bill by paying us wages for the days that we don't work. Do we know how much do these losses add up to?
SPREP - News detail
Championing Waste Reduction in Papua New Guinea
Narua Lovai and Kelly Madu (right) above Barakau

For most of his life Kelly Madu, 59, has taught in secondary schools throughout Papua New Guinea. Now, as the Councillor for Ward 8, in Central Province, he is responsible for constituents from the villages of Barakau, Rabuka, and Kerekadi, located between 30 and 40 kilometres east of the national capital, Port Moresby.
SPREP - News detail
Kiribati Champions Waste Reduction in the Pacific
| | |
| --- | --- |
| Ruka and Tekori Tikanga - winners of the Akeatemange (Zero Waste) Competition in South Tarawa | 2005 is the "Pacific Year of Action Against Waste" and Kiribati has recently been showing the rest of the region how it can turn its "waste" problem into a valuable resource. For years it appeared that most of the 40,000 people living on South Tarawa would simply have to accept sharing their streets and beaches with the 6,500 tonnes of solid waste they generated every year. |
Fighting the Region's Invisible Killer
Pita Vatucawaqa and grandson with their new composting toilet in Vunisinu village

Dr. Leonie Crennan, who has worked on sanitation issues in the Pacific region for more than 10 years, says the situation in Funafuti is now in need of urgent attention. She says that in the 1960s and 1970s, well-meaning donors encouraged the construction of septic tank systems and western flush toilets throughout the Pacific without understanding the sensitive hydrology of low-lying islands where pollutants can move easily through the groundwater system to the lagoon.

Profile of Pita Vatucawaqa at:
Improving management of bęche-de-mer in the Solomons
| | |
| --- | --- |
| Boy from Chea Village night diving for sea cucumbers in Marovo Lagoon | The $US400 000 Solomon Islands' International Waters Project is designed to help coastal communities improve the management of important commercial resources such as bęche-de-mer. The project is managed by the Solomon Island's Government in partnership with the South Pacific Regional Environment Programme, the United Nations Development Programme, and the Global Environment Facility. |
Community survey improves Marshalls waste management
| | |
| --- | --- |
| Some of the many children living in Jenrok, Majuro Atoll | A recently published survey could greatly assist the Republic of the Marshall Islands in develop a national plan to address its growing waste problem. In late 2003, Ben Chutaro was contracted by the International Waters Project (IWP) to carry out a "socio-economic survey" of Jenrok, a community on Majuro Atoll in the Marshall Islands. Chutaro says he was shocked by the changes that had occurred in the village where he grew up only 20 years ago. |
Training Local Facilitators Makes Immediate Impact on Fijian Villages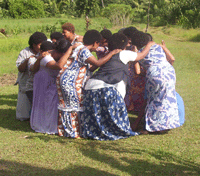 In Fiji community training is bringing people together to find long-term environmental solutions
National Coordinator, Sandeep Singh, says the Fiji International Waters Project, is providing local communities with skills to improve the management of their own resources. She says a recent programme to train local facilitators has had a significant impact in raising awareness and empowering people to address their environmental concerns.
IWP Scholarship Scheme Increases Environmental Capacity in Palau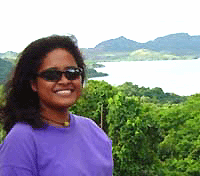 Kimie Ngirchechol
Recipient of the Palau IWP Scholarship
The International Waters Scholarship Scheme is helping Kimie Ngirchechol find ways to reduce the impacts of increasing development on the coastal environment of Palau. With assistance from the Scheme, Kimie has now begun work on her Masters in "Water Quality and Microbial Pollution" at the University of Guam's Environmental Science Programme.
Resource Kit for Facilitators of Participatory Natural Resources

Click on photo to go to the dedicated web page.
IWP Pilot Communities
Coastal Fisheries
Federated States of Micronesia -The village of Riiken, in the municipality of Gagil, on the island of Yap
Solomon Islands - The villages of Chea and Mbili Passage in Marovo Lagoon
Vanuatu - The community of Crab Bay in Malekula Island
Niue - The villages of Makefu and Alofi North
Waste Reduction
Fiji - The village of Vunisinu in Viti Levu
Kingdom of Tonga - The village of Nukuhetulu in Tongatapu
Nauru -The community of Buada
Papua New Guinea - The village of Barakau
Republic of the Marshall Islands - The village of Jenrok in Majuro Atoll
Tuvalu - The villages of Alapi and Senala in Funafuti
Republic of Palau - The village of Chollei in the district of Ngarchelong, Babeldaob
Kiribati - The community of Bikenibeu West in South Tarawa.
Freshwater Protection
Cook Islands - The Takuvaine community in Rarotonga
Samoa - The village of Lepa and Apolima Island.