Library
>
>
Publications
>
>
>
>
>
>
>
>
>
>
>
>
Home > Publication > Online Publication
Pollution Prevention > Waste >
A practical guide to landfill management in Pacific Island countries and territories: Volume 1 - Inland-based waste disposal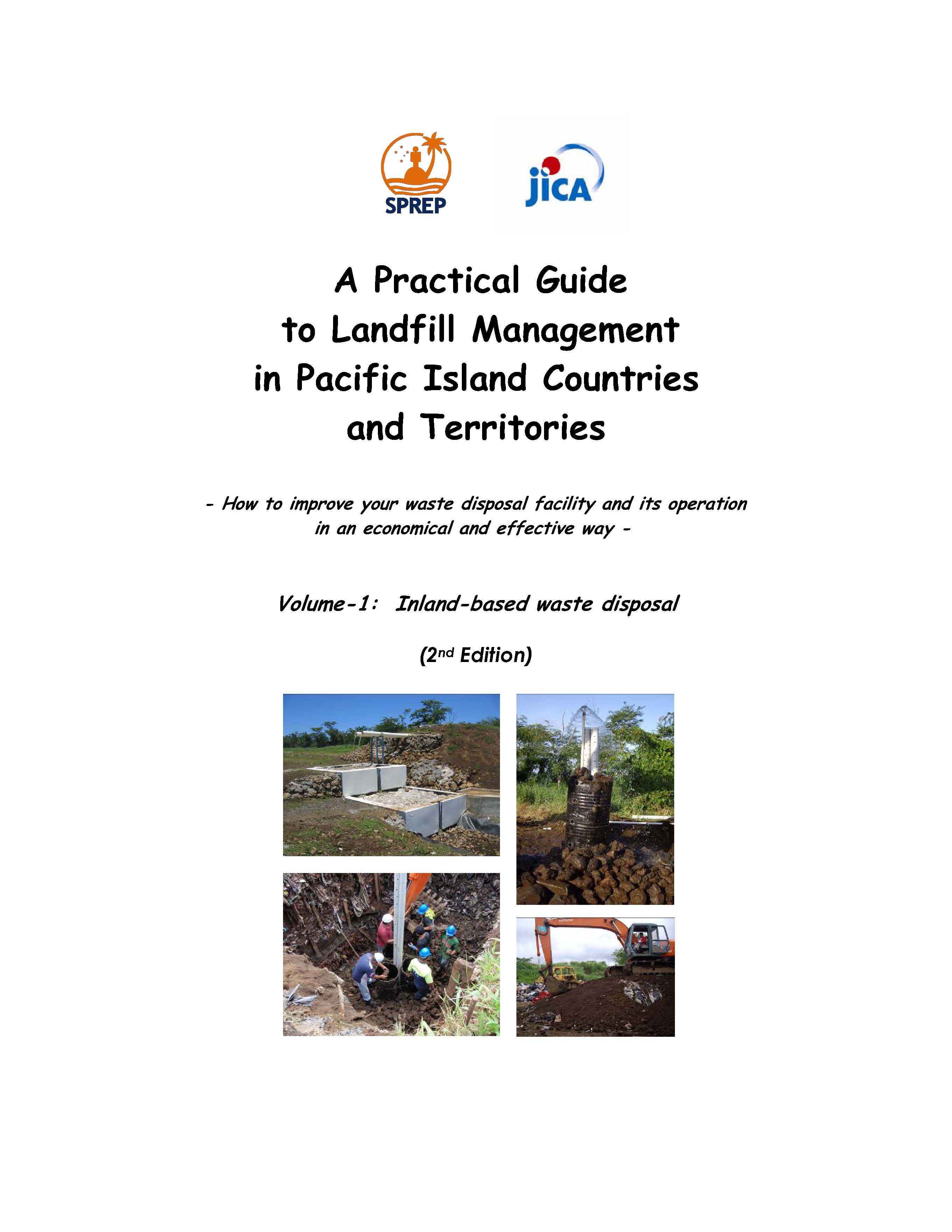 Solid waste management is an environmental priority for most islands in the Pacific. Unfortunately, lack of recycling and reduction initiatives, poor waste collection systems, open dumpsites, and environmental pollution are still common in many countries in the region. Despite this general outlook, there are a number of positive changes being made to
improve waste management policies and practices in Pacific Island Countries and Territories (PICTs), including improvement of collection systems, implementation of container deposit schemes, and the upgrading and construction of sanitary landfills.

This practical guide to landfill management is an important example of positive change. It draws on the experience of Japan, the country that has developed the Fukuoka type semiaerobic landfill and has facilitated the construction and upgrading of several dumpsites into Fukuoka-type landfills in Palau, Samoa, and Vanuatu, as well as other countries in Asia. This varied experience has enriched the development of this guideline, which provides practical, useful tips and invaluable guidance to waste practitioners in PICTs.

As the name of this guide indicates, it is a practical document which can be followed stepby- step to improve the management of landfills. But it is more than that. It is also a useful tool for waste practitioners to build their capacity through self-learning.
The guide is available online, in print and also on CD-ROM and DVD.
published :Thursday, April 01, 2010
Download and Link.
Download [11.49mb]
Order
| | |
| --- | --- |
| Contact Name | IRC |
| e-mail | irc@sprep.org |
| Phone | (685) 21929 |
| Fax | (685) 20231 |
Pdfs not downloading?
If you get a blank or incomplete page from the PDF link, right-click the link to the PDF file and select "Save Target As..." Then save it somewhere easy to find, such as your desktop. You can then exit the web browser and open the local file. This is an acknowledged incompatibility between Adobe Acrobat and Internet Explorer.

Problème de téléchargement des fichiers pdf ?
Si vous obtenez une page blanche ou incomplète à partir d'un lien pdf, cliquez avec le bouton droit de la souris sur le lien et sélectionnez " enregistrer la cible sous " puis choisissez un emplacement facile à retenir tel que votre bureau. Vous pouvez ensuite fermer votre navigateur et ouvrir le fichier sur votre ordinateur. Ce problème est dû à une incompatibilité connue entre Adobe Acrobat et Internet Explorer.
id=787