Italian Trust Fund
The Italian Trust Fund (ITF) was established in 2001 as a targeted contribution of the Italian Ministry for the Environment, Land and Sea to the Regional Environmental Center for Central and Eastern Europe (REC).
The work of the ITF is consistent with the REC's mission and activities — it shares the same ambition to strive for a solution to the environmental problems afflicting the Central and Eastern European region and beyond. The ITF is more than simply a funding mechanism; it is an advisory body to the REC and to the stakeholders of the region.
The ITF operates in the areas of environmental governance, sustainable agriculture, renewable energy, technical support, the development of joint environmental investment projects, institution strengthening, assistance to NGOs, strategic environmental assessment, the facilitation of international conventions, education for sustainable development, and climate change mitigation.
The ITF also assists the REC in its fundraising activities by supporting its presence in the international arena, expanding fundraising opportunities and providing expert personnel from the ItalianMinistry for the Environment, Land and Sea out of its offices in Rome, Brussels and Belgrade.
Since the establishment of the ITF, Italy has become a major partner in environmental and sustainability solutions in the region served by the REC. Italy's financial contribution has exceeded EUR 12 million, helping to raise awareness of climate change and environmental and health problems and supporting dozens of implemented projects. In addition, cooperation between the ITF and the REC has established and promoted strong networks among the beneficiary countries for regional and global solutions and has opened up new cooperation possibilities and channels for Italian stakeholders: government, business, academia and civil society.
All projects are implemented in collaboration with the REC and the respective REC country offices.
Key ITF Projects 2000-2008
Sustainable Development of Central and Eastern Europe: Strategies,
Methodologies, Policies and Actions — Courses I-IV
Course for Sustainability in Kazakhstan
Course for Sustainability for the Black Sea Region
Course for Local Sustainability and Action
Summer courses in Budapest
Supporting Education for Sustainability — The Green Pack in Turkey
Beyond Piloting Green Pack Albania in the Basic Education System
Training for Young Environmental Leaders
Young Experts Programme
Meeting for Friendship among People — Rimini
Climate Change — Debate on Emissions Trading
Implementing the Aarhus Convention: Practical Tools for Public Participation
Promoting Climate Change Policies in Turkey
Indoor Air Quality in European Schools (SEARCH)
Health Education Programme for the Budapest Health and Environment Conference in 2004
Roadmap towards the Fifth Ministerial Conference on Environment and Health
Training Seminars for Implementation of Waste Management
Practices in Selected SEE Countries
Energy Efficiency in Small and Medium-Sized Enterprises
Conference Center Reconstruction
International Strategic Environmental Assessment Workshop
Identification of Municipal Environmental Investments
Sustainable Development Certification in Turkey
Launching Third-Generation Environmentalism with "Europe in the World"
Support to the Implementation of the Carpathian Convention
Support to the preparation of input to the Sixth Ministerial Conference
"Environment for Europe" by countries of South East Europe.
ITF Project Records 2001-2008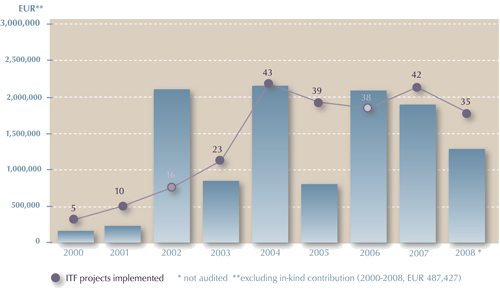 Contacts
Stefania Romano
Head
E-mail: sromano at rec.org
Phone: +36 26 504-013, internal ext. 453

Raquel Asencios
Project Officer
E-mail: rangulo at rec.org
Phone: +36 26 504-000 ext. 451

Marco Mattiello
Project Officer
E-mail: mmattiello at rec.org
Phone: +36 26 504-000 ext. 451