Home > Topic > Environmental awareness
Environmental awareness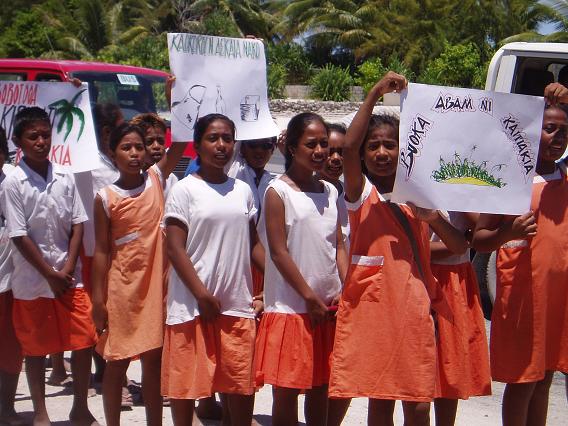 Pacific Island governments, along with other world leaders and civil society, have pledged their commitment to take action to change and promote sustainable development. Along with this commitment is the recognition that a sustainable future is dependent upon a considerable shift in attitudes, value, lifestyles and behaviour.
Education and training are critical components of SPREP's mandate and vision for sustainable development in the Pacific. This is clearly identified in SPREP's Strategic Programmes and Action Plan endorsed by Pacific leaders in 2004.
SPREP is committed to promoting environment for sustainable development issues in the Pacific, through supporting members develop national activities and initiatives, and through encouraging collaboration and partnerships to strengthen the profile of environmental education and communication in the region.
Education and Communication for a Sustainable Pacific: A Guiding Framework (2005 – 2007)
SPREP and members, with support from UNEP, have developed the Guiding Framework which aims to guide the implementation of education and communication initiatives to promote environment for sustainable development in the Pacific.
A key role of the Framework is to support the development of annual national action pans to focus on key priorities, whilst integrating the education and communication requirements of existing environmental/sustainable development programmes and initiatives.
Focusing on three key areas; Formal Education, Communication, and Capacity Development, Partnerships and Networks, the Framework provides realistic, achievable and measurable actions for supporting the integration of principles of sustainability into national action plans, and existing environment for sustainable development programmes.
Target area: FORMAL EDUCATION
Goal: To incorporate local, regional and international environmental issues into all formal education in Pacific Islands, integrating cultural, traditional and contemporary knowledge, skills and attitudes to enhance sustainable development.
Target area: COMMUNICATION
Goal: To motivate, inspire and empower people to sustainably manage their environment, through knowledge transfer, skills building, and promotion of positive attitudes and behaviours.
Target area: CAPACITY DEVELOPMENT, PARTNERSHIPS, AND NETWORKING
Goal: To promote and improve the exchange of information, skills and resources and to gain support for education and communication in environment and sustainable development through formal and non formal networks at local, national, regional and international levels.
SPREP recognises the vast differences of its member countries and territories and the Framework aims to provide a foundation to progress education and communication as powerful tools for achieving sustainable development in the Pacific, and support the integration of ESD principles into existing strategies.
Strengthening Environmental Communications capacity in the Pacific
Communications can be defined as using the right tool, to promote the right message, to the right people, at the right time. SPREP is committed to supporting its members strengthen the role of communications in promoting environment for sustainable development through the provision of communications training workshops.
Between August andDecember 2006, SPREP in partnership with its members, facilitated the Communicating for Change workshop series, an interactive and action oriented training programme involving more than 100 government and NGO representatives, and members of the media from 11 Pacific countries and territories.
Following on from these workshops, SPREP will continue to support members to strengthen environmental communications throughout 2007.
From education to behaviour change
SPREP is working to develop models that promote the strategic integration of behaviour change principles into broader strategic planning. There is also a growing recognition of the need to not only KNOW more but to ACT more. Education lays the foundation for initiating and promoting changes in attitudes and behaviours, and can reinforce learning and awareness, however, there are many intrinsic and extrinsic factors to consider when aiming to changing individual and collective behaviour. SPREP continues to promote the importance of considering behaviour change tools (such as social marketing) in the development of campaigns, and continues to advocate for the integration of communication into project planning and development.
SPREP and Education for Sustainable Development (ESD)

What is Education for Sustainable Development?
ESD is a vision of education that seeks to empower people to assume responsibility for creating a sustainable future. ESD aims to prepare people of all walks of life to plan for, cope with and find solutions for issues that threaten the sustainability of our planet and the well-being of all humans.
ESD has four major domains, reflecting diverse goals and audiences: promotion and improvement of basic education; reorienting existing education programmes at all levels to address sustainable development; developing public awareness and understanding of sustainability; and training.

Decade of Education for Sustainable Development (2005 – 2017)
2005 – 2017 has been declared the Decade of Education for Sustainable Development with UNESCO as the global lead agency. SPREP is considered a key stakeholder in regional discussions, and contributed to the development of a regional ESD Framework in its capacity as a member of the Pacific ESD Technical Working Group.
Pacific Framework for Education for Sustainable Development
In September 2006, Pacific Education Ministers endorsed the Pacific Framework for Education for Sustainable Development in Nadi, Fiji. SPREP will continue to work with key agencies to drive the development of Education for Sustainable Development in the Pacific.
In 2007 SPREP will work with its members to develop an ESD-Environment focus building on various environmental education initiatives undertaken over the past decade.
SPREP's climate change education and communications

SPREP recognizes the importance of media and communications in promoting environmental sustainability, and works closely with key partners and media organizations to build capacity in this area. SPREP works across three key areas: island biodiversity conservation, climate change and variability, and waste management.
Selected Current Initiatives
2008 Pacific Year of the Reef
Legends of the Reef school competition
Children aged 5-12 years from all Pacific island countries and territories are invited to write a brief story (up to 500 words) about a legend or story from their country or community, and prepare a poster.
One regional winner will be selected and receive a USD$500 book prize for their school, as well as a special Winner's Pack.
The stories and pictures will be displayed at SPREP meetings, and other events during the 2008 Pacific Year of the Reef.
Click here for more information.
challengecoralreef competition
challengecoralreef is open to any school group (of students aged between 13 and 18 years of age) to develop an 'Action Plan' to manage or conserve their local reef. Five Champion teams from around the Pacific will receive funding to implement the key actions. A representative of the winning team will be invited to attend the International Coral Reef Symposium in Florida in July 2008.
Click here for more information.
Pacific Climate Change Film Project
The Pacific Climate Change Film Project is an innovative partnership between SPREP and the British High Commission, Suva to share inspiring stories about how Pacific communities are responding to the impacts of climate change.
The Pacific Climate Change Flim Project will train and support media professionals, filmmakers and producers from five countries to research, develop and produce their own short films on how climate change is affecting their countries. The films aim to raise awareness about the impacts of climate change and to share the inspirational stories about what is being done to reduce its impacts. Participants involved in this project are from: Fiji, Kiribati, Tonga, Tuvalu and Vanuatu. Independent filmmakers from the Cook Islands and Samoa are also participating in this project.
The films will be shown at the Pacific's first climate change related film festival in Suva, Fiji August 2008.
Click here for more information on the Pacific Climate Change Film Project.
Get involved! Submit your films to the Pacific Climate Change Film Festival! Entries close 1 July 2008.
SPREP is now inviting submissions to the Pacific's Climate Change Film Festival in Suva, Fiji in August 2008. Click here for more information and entry form.
2008 Pacific Future Environment Leaders Forum
The Pacific Future Environment Leaders Forum is a leadership initiative for young professionals working in the area of environmental sustainability in the Pacific.
The Forum will take place from 12 - 14 March 2008 in Suva, Fiji. The Forum will focus on climate change issues, how Pacific islanders will be affected, and what young people can do to increase resilience to climate change in their communities.
The Forum is a joint initiative of the University of the South Pacific (USP), the World Conservation Union (IUCN) and SPREP, with funding from the British High Commission, Suva.
For more information contact Aliti Koroi, koroi_al@usp.ac.fj.
New waste materials
SPREP, in partnership with Live and Learn Environmental Education (Vanuatu) is currently finalising the Pacific Waste Education Handbook, a guide for educators and community facilitators to reduce rubbish in the Pacific. The Handbook will be available from the SPREP website in March 2008. For more information contact SPREP's Solid Waste Officer, Mark Ricketts, markr@sprep.org
Available resources
'Bring your own bag' DVD
Just under five minutes, 'Bring your own bag' is an entertaining look at why plastic bags should not be used for everyday shopping. As an alternative, the video suggests that you "bring your own bag". An animated turtle tells the story of plastic bags and encourages everyone to bring their own when they shop.
Waste world DVD
A dramatic short film which looks at the long-term impacts of not managing solid waste in the Pacific islands.
For more information on available resources visit www.sprep.org/publication/pub_top.asp.
For more information please contact

Tamara Logan
Education and Social Communications Advisor
SPREP
PO Box 240
Apia, Samoa
T: (685) 21929
F: (685) 20231
tamaral@sprep.org