ICPDR > Projects & Programmes > UNDP/GEF Tisza MSP
Upper Tisza Project
UNDP/GEF Tisza MSP - Selected measures for integrated land and water management
Project Goal
The project area is two villages Velyky Bychkiv and Bocicoui Mare located in mountainair part of Upper Tisza basin not far from the source of the Tisza. The villages are split by the Tisza, which is alsoe the border between Ukraine and Romania. According to the Analysis of Tisza River Basin 2007 this border area is classified as water body at risk. Therefore, there is an urgent need for actions in the Tisza River Basin Management Plan and the corresponding Program of Measures currently prepared by the ICPDR.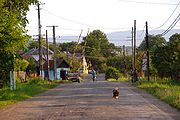 The project is implemented by Zakarpattya Oblast of the All-Ukrainian Ecological League with support of the ICPDR.
The main goal of the project is to demonstrate cost effective and scientifically grounded techniques and easy implementation solutions for the main environmental problems faced by this region. Among them
• Insufficient municipal solid waste management in both Belyky Bychkiv and Bocicoui Mare, which lead to significant pollution of the floodplains of Tisza and its tributaries by the solid waste, mainly plastic;
• Flooding by Tisza and local streams;


• Unsustainable forest management practices at mountains;
• Lack of measured hydrological data for water level forecast;
• Pollution of Tisza and its tributaries by untreated sewage waters.
Kick-off Meeting, June 11, 2009
On June 11 in the village Velyky Bychkiv in Ukraine the kick-off meeting for the `Upper Tisza Project` was organised with the participation of all partners including the ICPDR Project Implementation Unit (PIU) and UNDP. In the frame of the meeting the activities of the project were discussed and the tasks for the partners were agreed.
The project is now under implementation.
Disclaimer
The information contained in the ICPDR website is intended to enhance public access to information about the ICPDR and the Danube River. The information is correct to the best of the knowledge of the ICPDR Secretariat. If errors are brought to our attention we will try to correct them.
The ICPDR, expert group members, nor other parties involved in preparation of information contained on this website cannot, however, be held responsible for the correctness and validity of the data and information provided, nor accept responsibility or liability for damages or losses arising directly or indirectly from the use of the information conveyed therein.
Only those documents clearly marked ICPDR documents reflect the position of the ICPDR.
Any links to other websites are provided for your convenience only. The ICPDR does not accept any responsibility for the accuracy, availability, or appropriateness to the user's purposes, of any information or services on any other website.
When using the information and material provided on this website, credit should be given to the ICPDR.